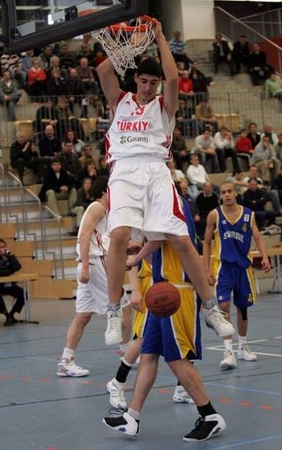 Before I get started into the recent allegations and reports regarding the amateur status of Enes Kanter, let me be clear about one thing - NOBODY who you hear talking knows ANYTHING specific about this situation.  The people who REALLY know what's going on are bound to silence and aren't saying a word.  This includes me.  I don't KNOW specifics, just generalities.  The difference is, I'm willing to admit that right up front.
Let me also be very clear.... the reports that UK took the Kanter commitment "just in case" Kanter got cleared to play are ABSOLUTELY WRONG.  Those who are closely involved with Kanter are very confident that he will be cleared to play.  The only people claiming he is a pro are those with clear motivations to hold that belief.
So, what's the deal?  For me, the first thing to look at is motivations.  It's absolutely clear as day that EVERYONE involved with International basketball is absolutely 100% opposed to Enes Kanter playing in the NCAA.  It has nothing to do with any dislike for Kanter or the NCAA, it has to do with money.  If the top talent in the international game were to stop signing contracts with international teams in favor of going to college for a year, those international teams would lose a LARGE pot of gold.... the amounts they are paid when those youngsters finally make it to the NBA. When international players are drafted into the NBA, the teams who hold their rights get a LOT of money to let them go to the NBA.  If the youngsters go to college and never sign with the international teams, there IS NO contracts and that means no payday for these teams.  Every person associated with International Basketball is going to do anything to make sure Kanter can't play NCAA basketball.
Let's be clear about one thing, Enes Kanter DID receive money from the Turkish basketball club.  When you read reports where some insider is quoted as saying "Enes Kanter was paid by
Fenerbahce Ulcer", they are being truthful and accurate.  Everyone freely admits that Kanter received money from Fenerbahce - the point of contention is whether he got paid MORE money than his actual expenses, which is not allowed by NCAA rule.  If he is found to have taken more money than his expenses, he will be ruled ineligible.
So, you tell me, who out there knows what Enes Kanter's expenses were?  Do you think some college coach who is whispered to say "he took money" actually knows what Kanter's expenses were?  Forgive me for not buying that.  Do I think some other international club team knows?  Do I think Pete Thamel or any other writer out there has any clue at all what Kanter's expenses were?  Personally, I do not.  None of those people follow UK basketball NEARLY as much as I do and I don't even know what his expenses were.  What I DO know is that UK has seen every single expense document and is confident he was only paid his expenses.
So last night, Pete Thamel writes a one sided hit piece AGAIN.  He misquotes a former HS coach on purpose (as claimed by the quoted source) and gets an obviously motivated GM from Fenerbahce Ulcer to say Kanter was paid a "Salary"....the implication being it was not simply expenses.  Then the "$100,000 over 3 years" figure is floated without ANY evidence being produced.... the GM only says that the "records" have been given to the NCAA.  Let me be the first to say this very clearly.  I HAVE NO FAITH that the $100,000 figure is anything more than a gross exaggeration.  I HAVE NO FAITH that there are any records that will support that figure at all.
Anyone who has read this site over the past year knows that I've always said that Kanter's family kept meticulous records on his expenses.  His father is a college professor and they always knew he wanted to go to college in the US and always understood the rules for remaining an amateur.  For every dollar that was spent, the Kanter family kept a record of it.
Is anyone surprised that this story is being written only a week or so before the NCAA is expected to rule on Kanter?  I'm certainly not.  At every point over the past year that some significant event was expected, some anti UK/Cal source comes out with some BS story.  I've called it time and time again.  The information that is being reported starting last night with Thamel's ridiculous story is not new at all.  It's nothing more than a public relations war against a kid who has done everything possible to remain an amateur and is close to being cleared.  The timing of this is absolutely preplanned and intentional.  I have confidence that the NCAA won't pay any attention to the "publicity" and simply rule on the documentation they have been provided.
So forgive me if I don't pay any attention to some other NCAA coach who Gary Parrish claims told him "the kid should be ruled ineligible for life.  Clearly, that coach has no clue either.  Forgive me if I don't pay any attention to anyone claiming to have some sort if inside information on the Kanter situation..... I'm POSITIVE they don't have a clue.  Forgive me if I pay no attention to some claim that "it doesn't look good for Kanter". The only two schools who have any clue are Washington and Kentucky....and both of those schools were confident that Kanter would be eligible.  Nobody else has seen a shred of documentation.